Saturday, December 16 – 5 PM to 9:00 PM
JOIN US LIVE ON FACEBOOK! SEE BELOW!
Click to join the conversation and updates on Facebook. Be sure to post your photos and mention @South Hero Volunteer Fire Department
The Annual Holiday Light Parade kicks off at 5:00 PM from the Sandbar and will proceed through South and Grand Isle. See the map below for the route.
Many of you have planned neighborhood gatherings on your front lawns. We love it! Be sure to cheer and wave!
If you are unable to come outside, please shine a flashlight from your window so that we can wave!
The final map is below here on www.southherofire.com, in The Islander, and posted at KBV and Emmons.
See us on NBC5 the night of the parade as First Warning Meteorologist Tyler Jankoski will join us in the weather truck.
Also confirmed are:
NBC5 Weather Lab with Tyler Jankowski
VTrans – Rudolph the Red Nose Snowplow
Vermont National Guard
Troy's Toy Drive Truck
Grand Isle VFD
Grand Isle Rescue
North Hero VFD
South Hero VFD
South Hero Rescue
NEW – Otter Creek Awnings
SD Ireland
TDI Towing
Bourdeau Bros. – Agricultural Service
Jeep Volunteer – Jake Gooding
NEW – Green Mountain Marine Services
And a few last-minute guests.
See you soon!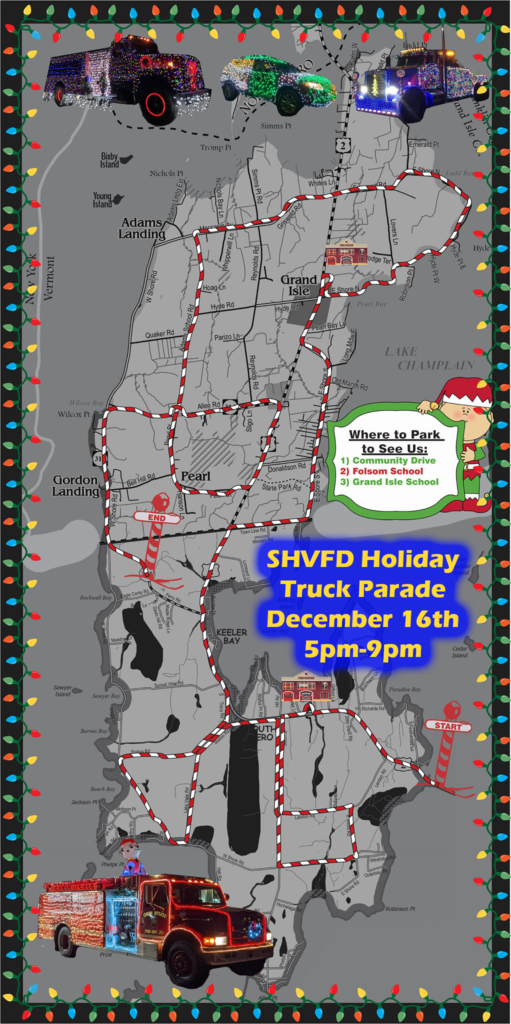 Joining us this year is NBC5 Storm Tracker Meteorologist Tyler Jankoski in the Storm Weather Lab!